A functional form of art
for the environmentally conscious
With its multitude of uses, resistance to wear and tear and fascinating motifs imprinted onto the fabric, Furoshiki has slowly become the ultimate symbol of refined simplicity when it comes to zero-waste gift wrapping.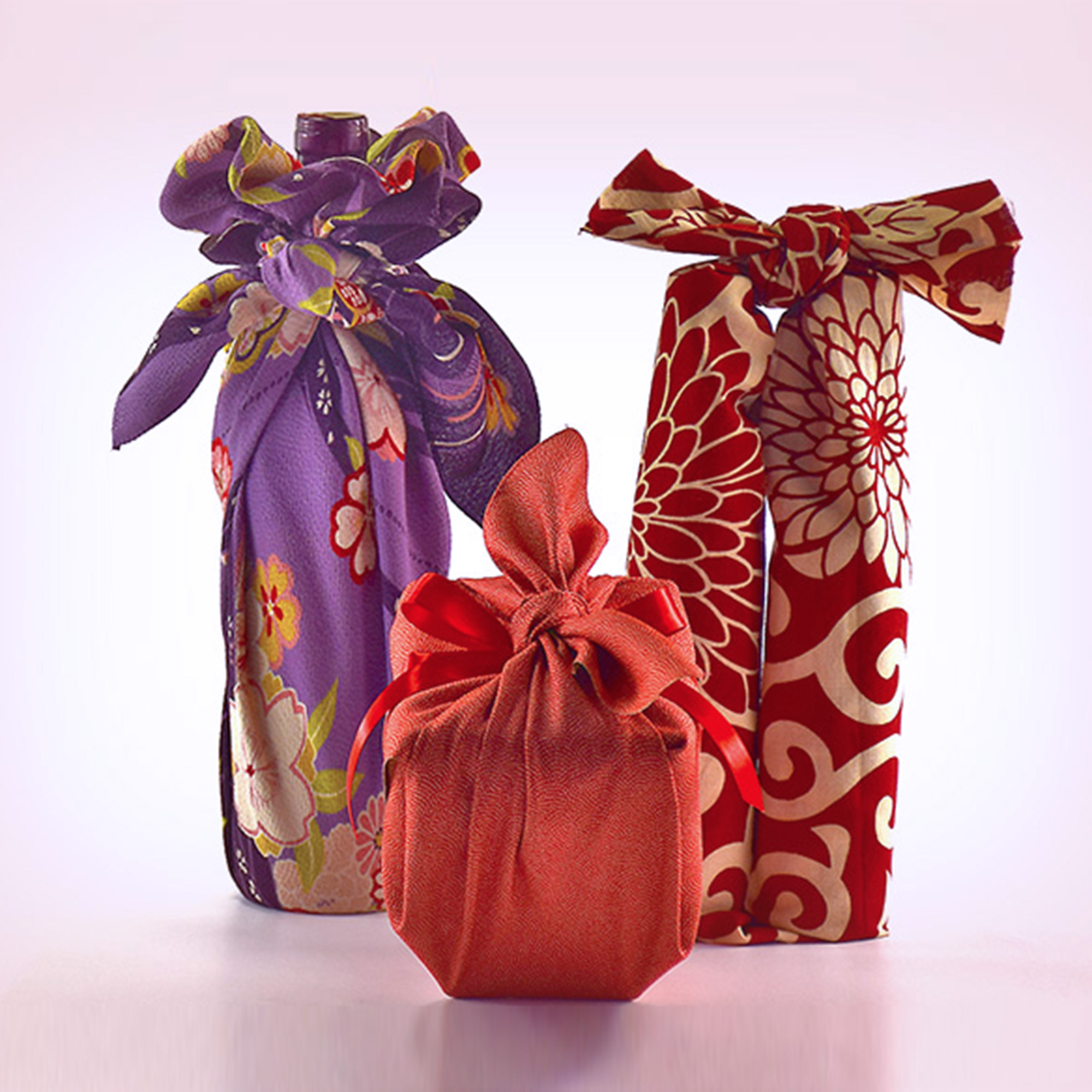 Discover the history of Furoshiki
Furoshiki has been traditionally used in Japan since Nara period (710-794), to wrap precious items in the temples. Find out how it changed during its 1200 years of history!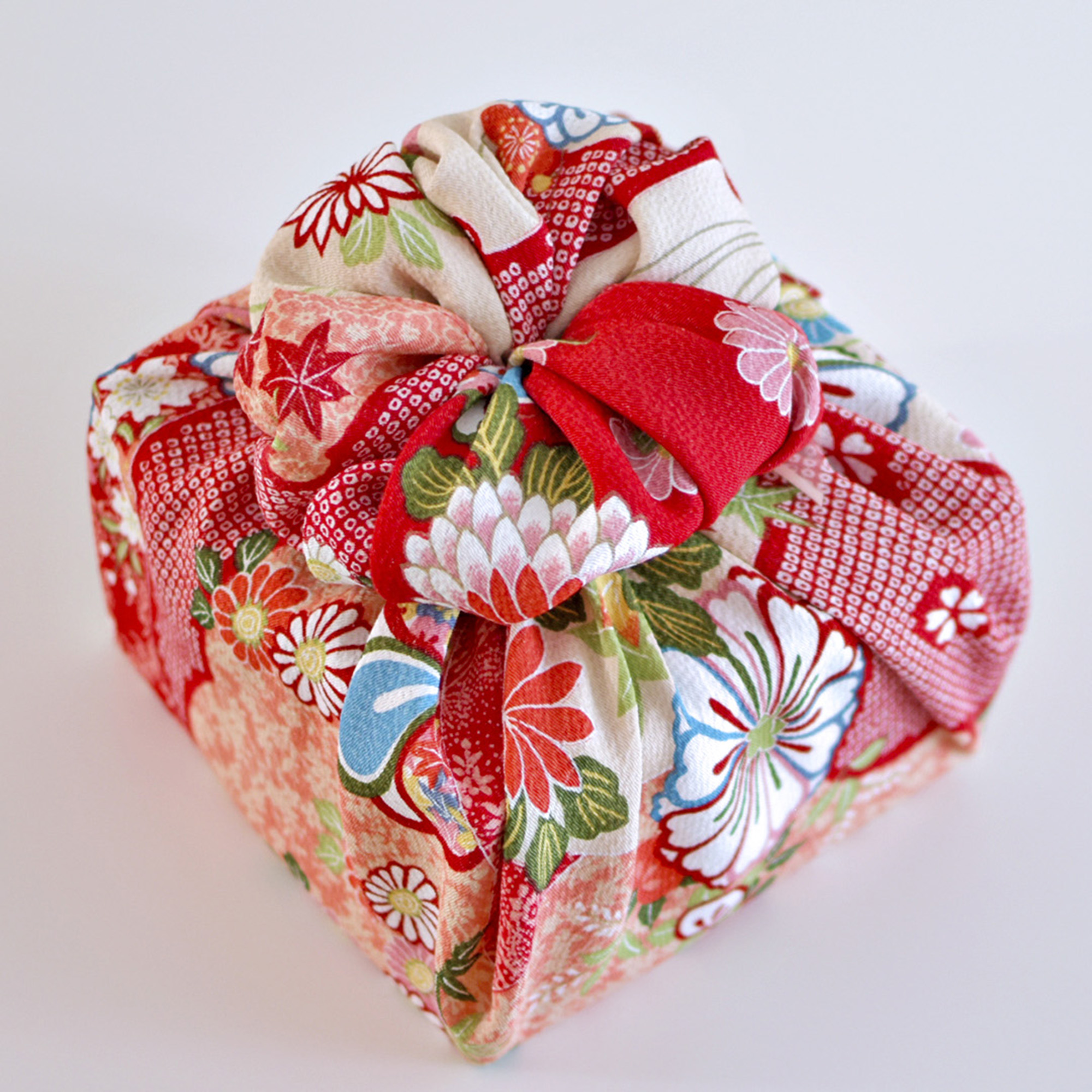 Learn elegant ways of wrapping
Whether you use Furoshiki or other fabric cloth, you can create elegant and intricate wrapping designs that will make the gift stand out.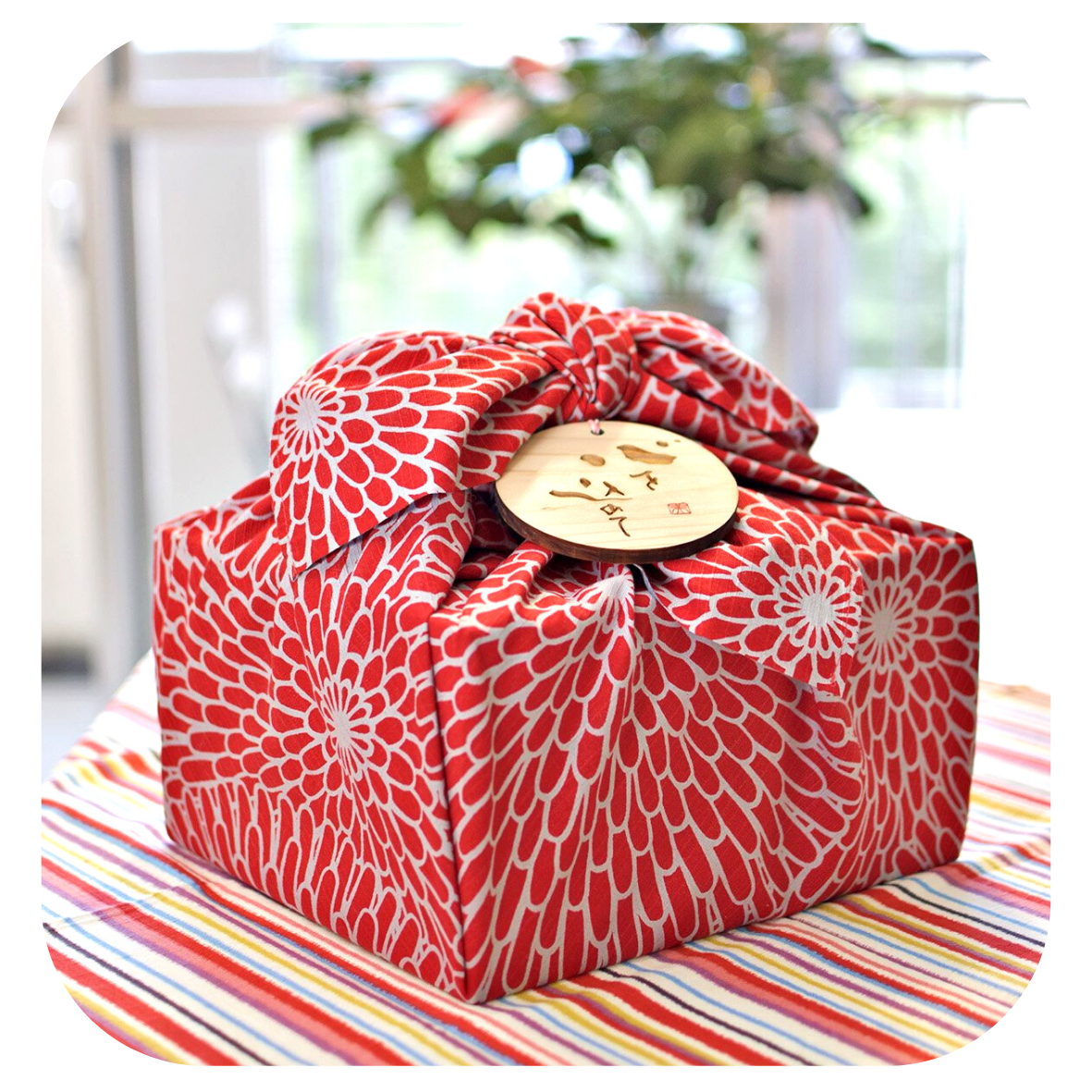 This course is for you if you:
Are passionate about zero-waste gift wrapping
Are curious about Furoshiki's history and its tradition
Are a beginner when it comes to using or wrapping with Furoshiki or fabric cloth
Want to master the basic techniques while learning elegant and unique wrapping styles
Need inspiration on how to wrap boxes, bottles, laptops, books, yoga mat etc
Want to go beyond gift wrapping and create functional handbags, shoulder bags or backpacks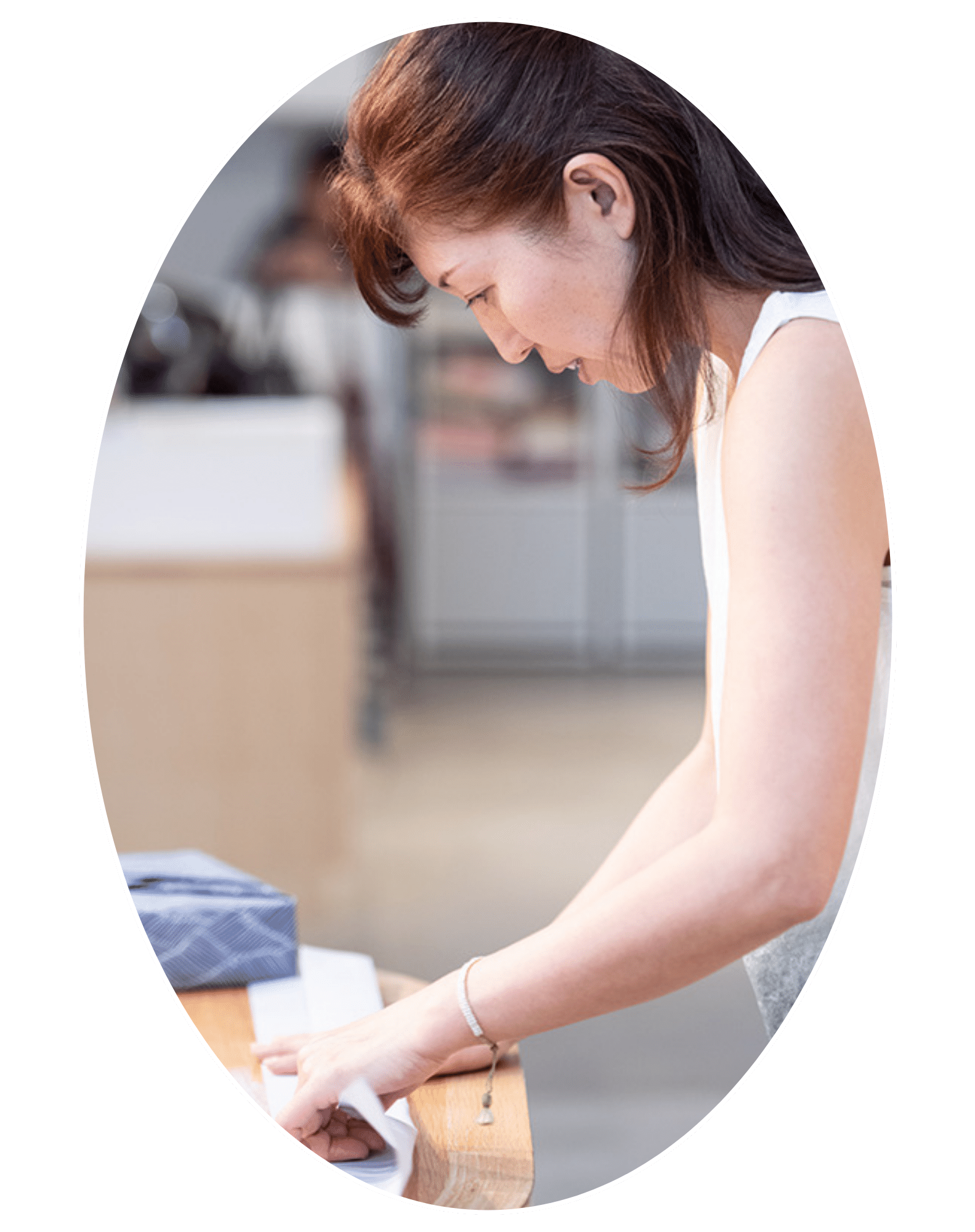 I've witnessed firsthand how a gift that was thoughtfully wrapped changed one's gift-giving occasion to an emotional moment, charged with mutual awe and admiration of both the giver and the receiver.
Gift-giving is a tradition that has no borders. We all have it.
As a professional gift wrapping artist I believe that the simple gesture of giving is already important and sufficient to create some bond between the giver and receiver. However, it's the wrapping that can tell even more about the giver's intentions, feelings and wishes.
We all have this beautiful tradition of offering gifts to each others on various occasions, to mark special events or milestones. But without expressing the feelings that determined us to give those gifts, they are mere then objects.
It's the way we present them that makes them into a present. 
I've dedicated more than 15 years to learning and deepening my knowledge in the art of gift wrapping and gift giving. Coming from a Japanese background, it inspired me a lot, since we have a centuries-old philosophy of gift-giving. My aim is to bring this knowledge to you and inspire you to refine your own gift wrapping principles and philosophy.
I hope that my courses will help you learn everything you need to become confidents and be the one to proudly say:
"Here, I've got something for you!"
I'm Shiho Masuda and I'll be your guide throughout the course. Join me and together let's enjoy bringing happiness through the art of gift wrapping!
With much love,
Shiho Masuda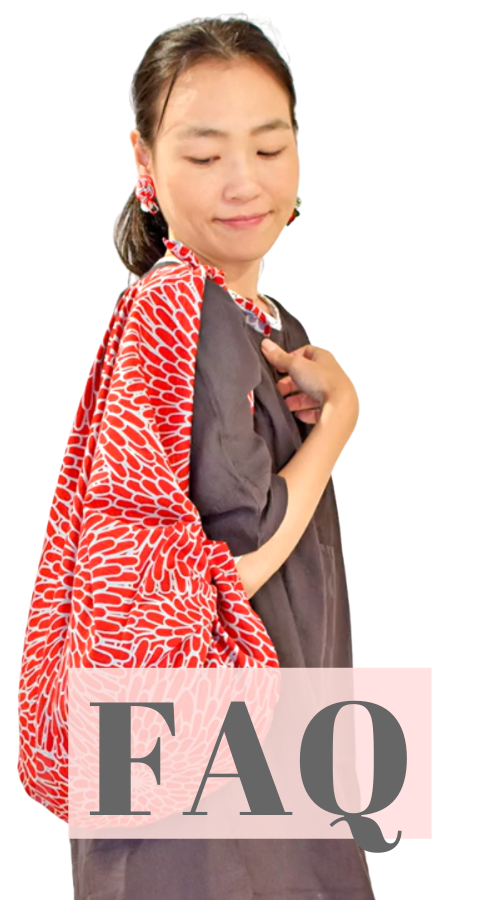 Frequently Asked Questions
How much does it take to complete the course?
Each lesson will take about 5-10 minutes. Take as long as you need to re-watch and practice.
How long do I have to access the course?
Lifetime access to this course and any future updates, as long as you keep your Teachable account! Learn on any device that connects to the Internet and support browsing.
When does the course start and finish?
Once you purchase it, all lessons are unlocked. It's a completely self-paced course and you are in charge of your learning times.
What if I'm unhappy with the course? Is there a money-back guarantee?
The course is backed by 30 days money-back guarantee. Simply contact me at [email protected] within 30 days from your purchase date and if not happy with the course, you'll be refunded the amount paid. No questions asked.
Where can I purchase Furoshiki?
At cultural gift shops that sell Japanese or Asian-inspired goods. Also check my online shop: https://www.wrapandtie.store/collections/wrapping/furoshiki
What size of Furoshiki should I prepare?
It depends on what you want to wrap. In each lesson, I'll show you how to make sure you get the right size for your gift. As a rule of thumb, the contents should take up no more than 1/3 of the diagonal length of the Furoshiki. In the course you'll find a downloadable "Furoshiki sizes" cheat sheet for your reference.
I have a scarf/handkerchief at home. Can I use these for practice?
Of course, if it's the right size for the item you intend to wrap. If it's too small, you won't be able to use all the wrapping techniques presented in the lessons, and if it's too large, it might get in the way.
Can I wash the Furoshiki at home?
It depends on the fabric content. As a basic rule: always check the label if they have one, or ask the shop assistant just to be sure. Generally, Furoshiki that are made of silk, rayon or nylon last longer if dry cleaned, whereas cotton and polyester can be easily cleaned with cold water.
You'll learn more about it in the course and you'll also have a downloadable guide for "Furoshiki Types and Their Maintenance" which you can print and keep for reference.